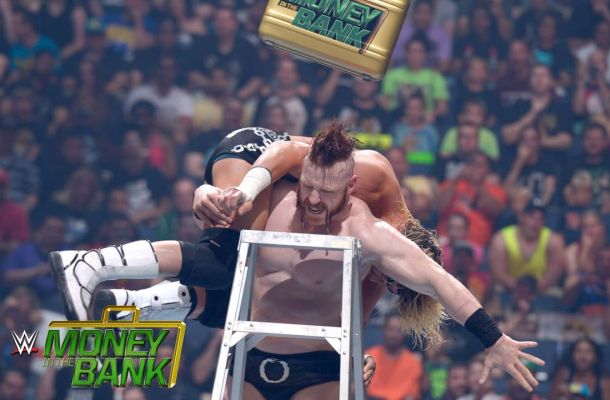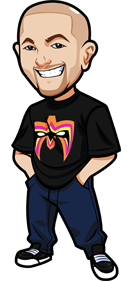 Written By Graeme on March 12, 2022  Follow @WWEBettingTips
Money in the Bank has become one of the most important events on the WWE calendar because the Money in the Bank briefcase often dominates the title picture for the rest of the year. The event has featured some incredible betting upsets of the years, but not always the ones you might expect.
The upsets at Money in the Bank have happened up and down the card with upsets nearly every year.
In this article, I am going to go over every single Money in the Bank betting upset since betting odds became available in 2014. The top-5 are all over +300 and I'll go in-depth on those.
Here are the betting upsets below +280. Odds are taken from the sportsbooks a day before the PPV, prior to the smart money coming in:
+105 Odds: Carmella (+105) defeated Asuka (2018)
+150 Odds: The Usos (+150) defeated Rey & Dominik (2021)
+175 Odds: Rey Mysterio (+175) defeated Samoa Joe (2019)
+175 Odds: Jimmy Uso & Jey Uso (+175) defeated Daniel Bryan/Erick Rowan (2019)
+250 Odds: Seth Rollins (+250) defeated Roman Reigns (2016)
+260 Odds: Jimmy Uso & Jey Uso (+260) defeated Wyatts (2014)
+280 Odds: R-Truth (+280) defeated Wade Barrett (2015)
Now here are the five biggest betting upsets in Money in the Bank history:
#5: Darren Young & Titus O'Neil (+300) defeated The New Day (2015)

It's hard to remember the days when the New Day were just another tag team, but this was fairly early in their run. They had just won the titles for the first time two months before and were just finding their footing. However, they weren't the New Day that we all know yet so they were ripe for a loss at any time. The titles would move around a lot in this era and they were definitely a victim of that here.
Looking at the landscape, it's possible that the Prime Time Players should've been given a bit more credit here. The Usos and Tyson Kidd were both out with injuries which left the tag team division a little thin. The Prime Time Players winning was probably meant to elevate them a bit, but history will remember them more as a footnote in the New Day story than anything.
The New Day would win the titles back at SummerSlam and go on a record setting 483-day run as champions.
#4: Shane McMahon (+330) defeated The Miz (2019)

Shane McMahon was a +240 underdog against The Miz at WrestleMania 35 and got the win in a falls count anywhere match. That ultimately set-up this match in a steel cage. Surely, The Miz (who was working as a babyface at the time) would get his win back here and defeat the evil owner's son, right? Right!?
Wrong, and not to toot my own horn, but I saw it coming:
Everyone expects The Miz to win and he has been fun in the babyface role. Plus, after the last show he SHOULD win this one. However, something seems to be rolling with Shane vs Roman so I'll do a 1/2u bet on Shane McMahon to win.
This is a case where you simply have to watch the product because while this feud was going on, WWE starting making move to get Shane involved with Roman Reigns. With Roman being higher on the pecking order, The Miz getting his win back became secondary to keeping Shane strong and getting him ready for Roman. Sometimes it's not about who you're feuding with at the time in WWE, but who you're feuding with next.
#3: Sheamus (+355) won Money in the Bank (2015)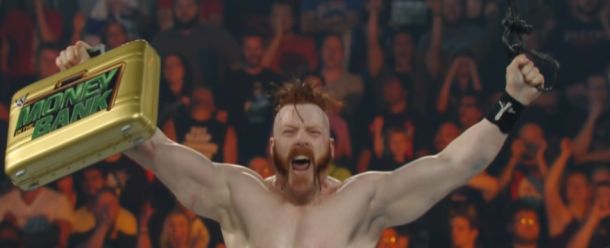 Roman Reigns was a big favorite here at -535 with The Field (aka everyone else) being listed at +355. With odds like that, how couldn't you bet on the field? Plans can always change and it's not like someone like Roman Reigns needs a briefcase to get a title shot.
I think of this one less as a major upset and more as a gift. The sportsbooks were just a little too excited about the idea of Roman winning and facing the winner of Ambrose vs. Rollins. Whenever something feels that obvious in WWE, it's probably not going to happen.
#2: Layla (+500) defeated Summer Rae (2014)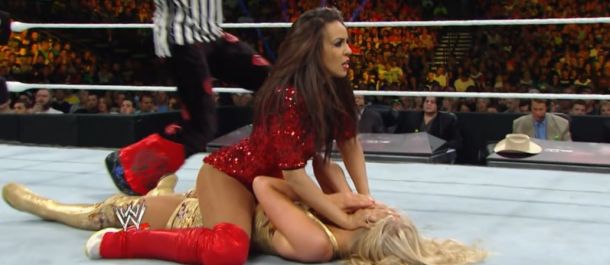 Sometimes WWE zigs when you think they are going to zag.
Summer Rae was Fandango's dance partner until he fired her and replaced her with Layla to set-up this match. Fandango was named special guest referee which made it seem like Summer Rae would overcome the incredible odds and win the match because that's the kind of thing that happens in WWE. Nope. Layla just won.
#1: Big Show (+700) defeated Ryback (2015)

My feelings at this one at the time sum up why Ryback was such a huge favorite at -1500:
I've spent the last week trying to find a reason to back Big Show. Those odds are excellent – but I just can't justify it. I can't see him getting the title, and a countout/DQ victory makes no sense.
That was how everyone felt at the time and him losing would really be something that made no sense if it was a normal match. However, WWE had a wild card up their sleeves when they put The Miz on commentary for this one. He got involved near the end and caused the disqualification which gave Big Show the win and set-up a triple threat match at the next big pay-per-view.
A cheap way to get such a big upset, but a good lesson in that you have to be prepared for anything.
Follow @WWEBettingTips
Current Wrestling Betting Odds:
Event:
Match:
Where To Bet:
WWE Wrestlemania
Bianca -230 vs Becky +160
N/A
WWE Wrestlemania
Brock -134 vs Roman -106
N/A
WWE Wrestlemania
Ronda -500 vs Charlotte +300
N/A
WWE Wrestlemania
Sami -162 vs Knoxville +115
N/A
WWE Wrestlemania
Drew -1250 vs Corbin +550
N/A
WWE Wrestlemania
Attendance Props
N/A
WWE Money in the Bank
Mens & Womens Odds Up
N/A
Note: Not all bets may be available at BetOnline but they are only choice for Americans.