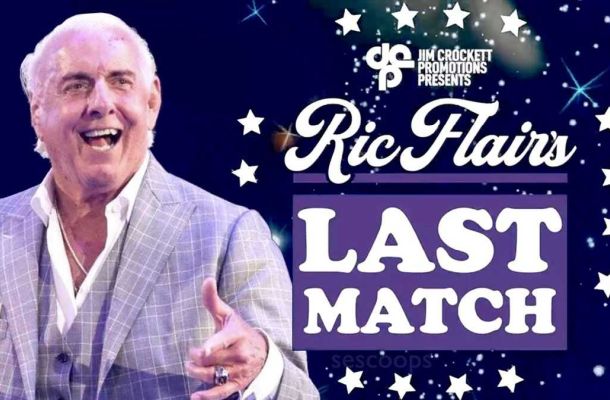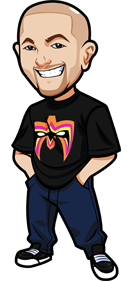 Written By Graeme on July 27, 2022  Follow @WWEBettingTips
Most retirements in professional wrestling are not permanent, but this weekend there is one that just might be. Ric Flair will wrestle his last match, teaming with Andrade to take on Jay Lethal and Jeff Jarrett.
Ric Flair turned 73 years old this year and this weekend he is wrestling what should be his final match.
Based on his age, his health problems, and other factors, I really believe this will be his last match.
Because it's his last match, there are plenty of betting options available for it at BetOnline.
In this article, I will go through each of the betting options and give my thoughts.
First to Bleed
Flair (-190)
Jarrett (+175)
Lethal (+400)
Andrade (+450)
If anyone in this match is going to bleed, it's Flair. There are more iconic photos of him with blood all over his face than maybe any wrestler in history and one more would be a fitting end to his career.
If you are thinking he's too old to do it, you're wrong. He did it in the build-up to this match when Lethal and Jarrett beat him up in a parking lot.
Will a guitar be broken?
The odds on this one are probably not worth a bet. Jeff Jarrett has broken roughly 10,000 guitars in his career and it's hard to see him not doing that here. It would be a good path to Flair bleeding as well.
Ric Flair's first move
Knife Edge Chop (-600)
Elbow Drop (+550)
Leg Drop (+650)
Body Slam (+900)
Figure 4 (+1000)
Suplex (+1200)
Bet Ric Flair's Last Match at BetOnline
Considering Flair's age and physicality, the chop is the most likely answer here. I can't imagine him coming into the ring and doing a suplex right at the start, but you never know with this guy.
One thing to consider is how the match goes. Let's say, for instance, that Andrade starts in the ring and gets the advantage before tagging Flair in. That could mean his opponent will already be down on the mat, right? In Flair's career, that has typically meant elbow drop.
So, elbow drop may be worth a small bet.
Match Winner
Flair & Andrade (-2250)
Jarrett & Lethal (+750)
The odds here on Flair are pretty ridiculous and the odds are that he's going to win. All of the people who paid big money for this show didn't pay all that money to see Flair lose. He's almost definitely winning this thing.
Still, the odds are so good that it's almost worth a bet on Jarrett & Lethal. Flair is an old school guy and could believe that he should do a job on his way out. That's a very old school way of thinking, but for a guy like Flair it is likely how he is thinking.
Just because this is the end of Flair doesn't mean it's the end of Starrcast. A win for the heels could set up another big Starrcast event down the road.
Do I believe that? Probably not, but it's worth putting out there.
Bet Ric Flair's Last Match at BetOnline
Follow @WWEBettingTips
Current Wrestling Betting Odds:
Event:
Match:
Where To Bet:
WWE Summerslam
All Matches
BetOnline
Ric Flairs Last Match
All the Props
BetOnline
Note: Not all bets may be available at BetOnline but they are only choice for Americans.