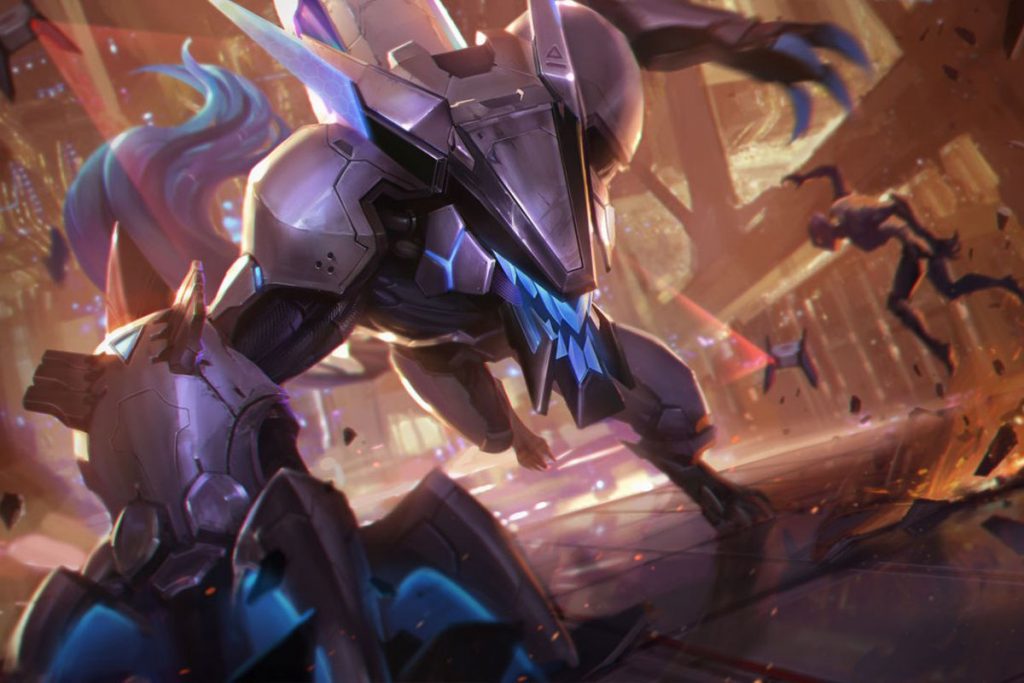 Riot Games secara luas terkenal karena menjadi tuan rumah berbagai mode permainan League of Legends sepanjang tahun, yang bertujuan untuk menyeimbangkan untuk membawa konten baru ke klien secara interaktif dan unik.
Setelah mode Arcade baru-baru ini, pemain sekarang dapat berpartisipasi dalam acara eksklusif PROJECT 2019, yang akan merilis skin PROJECT untuk juara seperti Irelia, Warwick, Jinx, Akali, dan Pyke.
PROJECT: PYKE berharga total 1820 RP, sementara skin lainnya adalah Epic, yang harganya 1350 per setiap skin.
Acara eksklusif ini juga akan menyertakan ikon PROJECT, chromas, ward skins, emotes, dan merchandise yang ditambahkan ke toko online yang ingin menyelami hal-hal bertema PROJECT.
Namun, bagian yang paling menakjubkan dari acara PROJECT adalah ia hadir dengan misi khusus, yang dapat diakses melalui dua cara – rute gratis dan Tiket Acara khusus.
Sedangkan untuk opsi gratis, pemain dapat menyelesaikan misi unik untuk mengamankan konten PROJECT 2019 selama empat minggu.
Untuk 1650 RP, pembelian Event Pass secara eksklusif membuka akses ke lebih banyak misi dan kesempatan untuk mendapatkan jumlah Token yang tidak terbatas.
Event Pass akan memberi pemain ikon khusus, 4 Orb, 200 Token, dan beberapa token bonus untuk menyelesaikan misi reguler. Pass ini juga menawarkan pemain untuk menyelesaikan misi pencapaian, yang memberikan Poin Prestise, yang juga dapat digunakan di toko acara dalam game.
Mereka yang akan menggunakan Event Pass akan diberikan sejumlah Token tertentu per menang atau kalah di setiap mode permainan League of Legends.
Secara keseluruhan, toko acara baru dipenuhi dengan berbagai macam pembelian, sedangkan yang paling mahal adalah kulit PROJECT 2019 Irelia seharga 2000 Token. Adapun perbatasan dan ikon, seseorang dapat membelinya seharga 250 Token masing-masing. Chroma untuk setiap Champion dapat dibeli dengan total 300 Token untuk satu chroma.
Ward baru akan dikenakan biaya 125 RP, dan emote dapat dibeli masing-masing seharga 75 Token.
Adapun beberapa informasi tambahan, peta Summoner's Rift juga akan diperbarui dengan unit minion bertema PROJECT.
Namun, Riot tidak meluncurkan PROJECT: mode permainan Overcharge, yang sebelumnya menyertai pembaruan PROJECT. Seperti yang ditunjukkan oleh Situs taruhan League of Legends, penggemar masih kecewa dengan keputusan seperti itu karena kesediaan keseluruhan untuk menguji beberapa potensi gameplay yang menyenangkan.
Meskipun demikian, PROJECT 2019 akan berlanjut hingga September kedua, yang menawarkan pemain cukup waktu untuk mengambil semua Token yang dapat dihabiskan di toko.
---
---