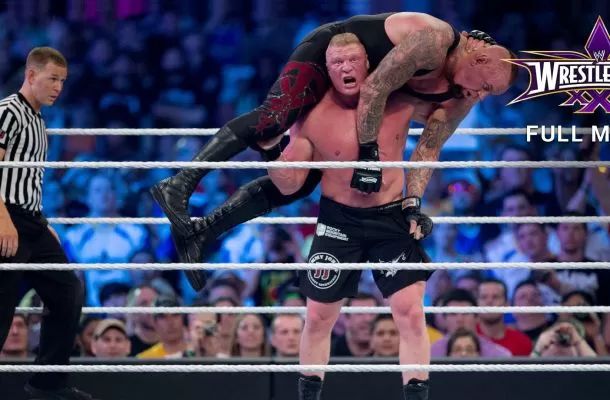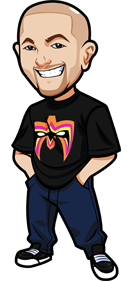 Written By Graeme on February 23, 2022  Follow @WWEBettingTips
WrestleMania is the granddaddy of them all in the world of sports entertainment. Not only has it featured some of the biggest matches in WWE history, it has also featured some of the biggest upsets.
There have been multiple upsets at this event over the years and a few of them put a serious hurt on the sportsbooks.
Most upsets are in the +120 to +200 range, but this event has some of the biggest ever. This article has fifteen upsets that are over +400.
In this article, I have listed every single WrestleMania betting upset since odds became available with details on those that are +400 or above.
Here are the upsets that fell just below that +400 threshold:
+120 Odds: Sheamus defeated Matt Riddle (WrestleMania 37)
+120 Odds: AJ Styles defeated Randy Orton (WrestleMania 35)
+125 Odds: Randy Orton defeated Seth Rollins (WrestleMania 31)
+125 Odds: Bayley won six-way match (WrestleMania 36)
+135 Odds: Charlotte defeated Rhea Ripley (WrestleMania 36)
+140 Odds: Becky Lynch defeated Shayna Baszler (WrestleMania 36)
+150 Odds: Tony Nese defeated Buddy Murphy(WrestleMania 35)
+150 Odds: The Rock defeated John Cena (WrestleMania 28)
+150 Odds: Shayna/Nia won Tag Team Turmoil (WrestleMania 37)
+155 Odds: The Miz defeated John Cena (WrestleMania 27)
+160 Odds: Chris Jericho defeated Edge (WrestleMania 26)
+165 Odds: Rey Mysterio defeated CM Punk (WrestleMania 26)
+170 Odds: Charlotte defeated Sasha Banks and Becky Lynch (WrestleMania 32)
+175 Odds: Bobby Lashley defeated Drew McIntyre (WrestleMania 37)
+175 Odds: Roman Reigns defeated Edge and Daniel Bryan (WrestleMania)
+200 Odds: John Cena defeated Bray Wyatt (WrestleMania 30)
+200 Odds: Natalya/Tamina won Tag Team Turmoil (WrestleMania 37)
+240 Odds: Shane McMahon defeated The Miz (WrestleMania 35)
+275 Odds: AJ Styles defeated Shinsuke Nakamura (WrestleMania 34)
+300 Odds: Kane defeated Randy Orton (WrestleMania 28)
+320 Odds: Mojo Rawley won the Andre the Giant Battle Royale (WrestleMania 33)
+320 Odds: Billie Kay & Peyton Royce won a Fatal Four Way (WrestleMania 35)
+325 Odds: Seth Rollins defeated Finn Balor and The Miz (WrestleMania 34)
+330 Odds: Edge defeated Alberto Del Rio (WrestleMania 27)
And now every WrestleMania upset over +400:
#15: Triple H (+400) defeated Sting (WrestleMania 31)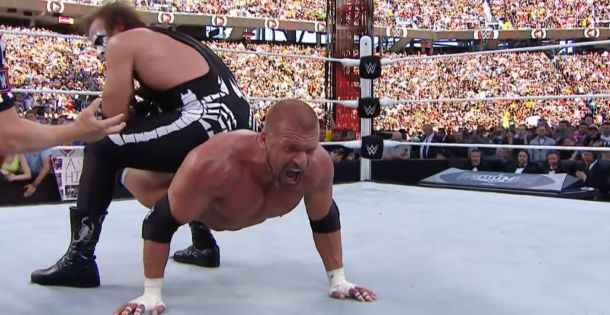 "Why would you bring Sting to WWE for the first time ever only to have him lose the first match?"
That is the question that a lot of people were asking leading into this one and few could think of a reason why Sting shouldn't win this one. I say few there because I know of at least one person that didn't feel that way: me.
Everyone seems to think Sting winning is a banker. I don't get it. I could understand that when Sting first joined and they were going towards this fight – but have you been following WWE TV at all? It's not Sting vs Triple H anymore. It's WCW vs WWE! And I'm sorry but you're a moron if you think Sting is taking this one. WWE – aka Triple H, to win.
Sometimes you have to remember who is choosing the winners and losers in this company. That person's name is Vince McMahon and if there's one thing we know he that he truly hates it's WCW.
#14: Mark Henry (+425) defeated Ryback (WrestleMania 29)

This was a battle of two monsters which saw Ryback and Henry going at it.
This is an upset that we absolutely should've seen coming in retrospect. Ryback hadn't won a match on pay-per-view since the previous July and him being such a big favorite here is kind of baffling in retrospect. Henry was beating everyone while Ryback was coming off losing his 38-match win streak and a feud to CM Punk.
Yes, Ryback "needed" the win, but that doesn't mean that he would get it. For one, Henry was the bigger star in the company's eyes as they always like the ones who have been around the longest best. Second, Ryback's momentum was in the toilet after the Punk feud and he needed a change in character. That change came the next night when he turned heel on John Cena.
#13: Brock Lesnar (+450) defeated Roman Reigns (WrestleMania 34)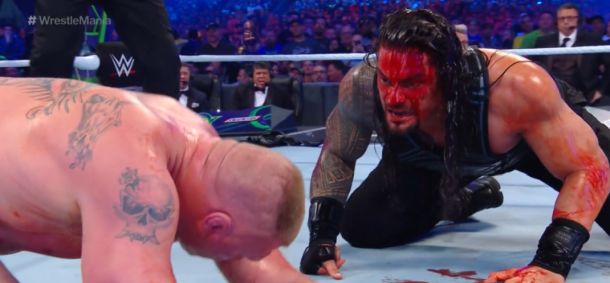 This is one of the wilder results in recent WrestleMania history and the thing that caused Brock Lesnar to throw the title at Vince McMahon.
Roman Reigns had long been hated by the hardcore fans and WWE refused to accept it. They built to this match with Lesnar where it seemed like Roman would finally get his big win against Brock. The fans in the building all knew it and really rejected the match, but they kept going and things just got worse and worse as it went on. Roman winning felt like a inevitability and then he lost.
Looking back, this is still surprising because of the way it all went down. The whole thing was meant to be so that Roman could become a bigger superstar and losing in this match, with the crowd crapping all over it, did him and Brock no favors.
#12: Charlotte (+550) defeated Asuka (WrestleMania 34)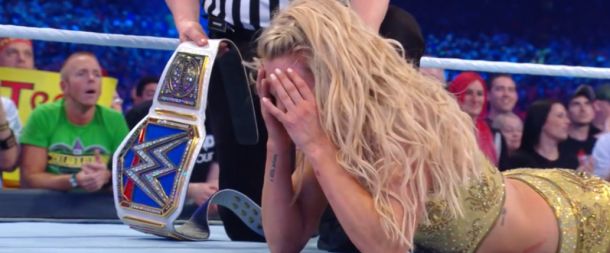 If you've ever listened to my podcast you know that I have a little saying: "Always bet on Charlotte." Matches like this are exactly the reason. Asuka had all the momentum in the world heading into this match. She was undefeated, she won the Royal Rumble, the crowd was behind her, and she had never won a championship on the main roster. When you think about a Royal Rumble winner getting a shot at WrestleMania, this is the kind of crowning moment you are thinking of.
But that's not what happened. Charlotte won.
We may never know what exactly went on backstage, but there is a definite pattern with Charlotte. It doesn't matter how much it seems like she should lose, she finds a way to win. Whether that means she is a favorite of the boss or simply one of the few women that he sees as a true star, the reason doesn't really matter.
Always bet on Charlotte.
#11: Dean Ambrose (+650) defeated Baron Corbin (WrestleMania 33)

The build to this match was pretty lackluster, but the wisdom at the time said that Baron Corbin was the next big thing in WWE and this was likely to be his crowning moment.
We should've seen this one coming simply based off it's placement on the card. This took place on the pre-show which is typically a spot where babyfaces win their matches. WrestleMania as a whole is typically a show with a lot of babyface wins so this should've been doubly so.
This is a situation where the conventional wisdom says to do one thing, but the other wrestler in the match is such a big star that they are worth making a bet on. I made a 1/4 unit bet at the time and was very happy with the result.
#10: Cesaro (+750) won the Andre the Giant Battle Royale (WrestleMania 30)

The first ever Andre the Giant Battle Royale also saw one of its biggest upsets as Cesaro shocked the world and won the match. The Big Show was a big favorite heading in because it just makes a lot of sense for him to win this and throughout the match it really seemed like he would win as no one was able to eliminate him. In the end, Cesaro was able to do an incredible feat of strength and win the match. Cesaro wasn't even listed among the participants with betting odds so to bet on him you had to bet the field.
This was the first one of these so it wasn't easy to know how it would look, but even at the time I knew that betting the field at +750 was the way to go. Did I know it would be Cesaro? I'd be lying if I said I did, but the match seemed primed for a surprise winner and that's exactly what we got.
#9: Randy Orton (+800) defeated The Fiend (WrestleMania 37)

This was the debut of a brand new version of The Fiend and the oddsmakers really thought that meant he was going to win. Orton had a match against Alexa Bliss at Fastlane which saw The Fiend return, leading to a win by Bliss. The Fiend, for the most part, had been completely dominant in every one of his matches outside of a loss to Goldberg. The character is one that isn't one that should be losing a ton because it kind of kills the aura of the movie monster to lose so the assumption was that The Fiend would win here and continue his reign of terror. It made a lot of sense on a lot of levels.
That said, someone like Randy Orton +800 should never be this big of an underdog at WrestleMania (similar to Ambrose above) and the sportsbooks paid the price dearly. I know because I'm one of the people who bet on Orton.
#8: Michael Cole (+900) defeated Jerry Lawler (WrestleMania 27)

This match between two announcers was Jerry Lawler's first ever WrestleMania match. Considered by many to be one of the greatest wrestlers of all-time, Lawler had never really had a sustained run as a wrestler in WWE and had mostly been considered an announcer and nothing more.
Those facts should have been a giveaway of this result. Vince McMahon often has a weird sense of humor and hatred for "wrasslin". What better way to express those feelings than by having an unathletic announcer defeat a Southern "wrasslin" legend? The prevailing sentiment at the time was something like, "yeah, I can see that, but it's Michael Cole. Lawler can't lose to him."
This is a thought that may make sense to you as a fan, but it just isn't based in logic when it comes to what we actually see on screen. Lawler losing to Cole, John Cena losing to Kevin Federline, Orton losing to Alexa Bliss, and Shane McMahon winning any match are all part of a long-term pattern.
#7: Jinder Mahal (+950) defeated Randy Orton, Rusev and Bobby Roode (WrestleMania 34)

There are some upsets that happen that you can see coming ahead of time while others are just baffling. This is the latter.
In the building, Rusev was one of the most popular wrestlers and everyone wanted him to win this one. Mahal was just a few months removed from his disastrous run as WWE Champion and fans were excited to see him start losing. Instead, he stayed in the title picture and got this win, pinning Rusev to do so.
WWE will often give people the opposite of what they want because they believe it will help them down the line. This is that, but like this plan often goes – it didn't help them down the line and only made fans unhappy.
All that said, sometimes you need to throw logic out the window and in a four-way match anything can happen. As we've seen multiple times at WrestleMania, the winner can often be who you least expect. Logic be damned.
#6: Brock Lesnar (+1100) defeated Undertaker (WrestleMania 30)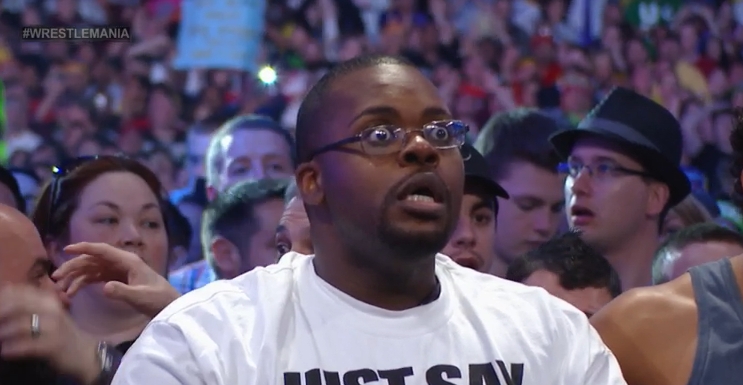 This is the most shocking upset in WWE history as The Undertaker had won twenty-one straight matches at WrestleMania, a streak that many people thought would last forever. I was one of them as I said this in my tips:
WrestleMania. Undertaker. You can't beat the streak. Even if you are an unstoppable beast who is a former UFC champion. There is no way in hell that The Undertaker is losing here. Save your money, even if those odds are amazing.
Oops.
Lesnar's return hadn't lead to him being as dominant as people would expect at first. He lost to Cena in his first match, then feuded with Triple H which saw him lose at WrestleMania 29. He won just about everything after that, but it seemed like he was going to be portrayed as the big star who loses to the even bigger stars. Brock ending the streak changed all that and he'd go on to dominate the competition for years to come.
Tied – #3: Big Show (+1200) won the Andre the Giant Battle Royale (WrestleMania 31)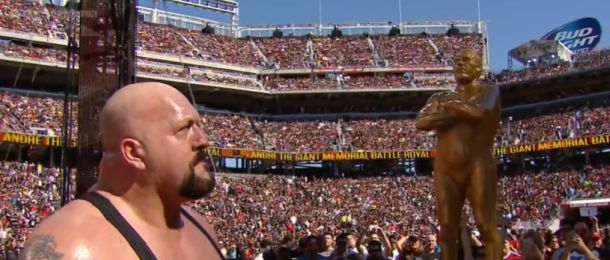 The Big Show was a big favorite to win this match at WrestleMania 30 because him being the winner of the Andre the Giant Battle Royale just makes sense on a lot of levels. Everyone was sure he'd win that one and then Cesaro shocked the world. A year later, people started assuming that this match was more about building a new star than giving an established one a win and Damien Mizdow was the favorite. He'd been getting really popular and the crowd was ready for him to turn on The Miz, and this seemed like the place for that to happen.
Well, it did happen, but in the end Mizdow was no match for Big Show.
Here's what I said in my tips at the time: "While I want Mizdow to win it, there's so much hype on Sheamus coming back, and rumours that he will be a heel that I think the best ending is Mizdow losing to Sheamus." I had the right finish, but the wrong wrestler.
In retrospect, Big Show winning one of these made too much sense not to happen eventually.
Tied – #3: Matt Hardy (+1200) won the Andre the Giant Memorial Battle Royal (WrestleMania 34)

The favorites in this match were Big Cass and Elias so that should tell you all you need to know about how much of a crap-shoot this one was. This match really was the definition of "let's get some guys on WrestleMania" with nobody really sticking out in the field ahead of time.
Matt Hardy got the win when Bray Wyatt made his return to help him win. As someone who was in New Orleans on this weekend, he was probably the right choice. Matt Hardy/"Delete!" was one of the most popular things on the streets all week.
Tied – #3: Naomi (+1200) won the WrestleMania Women's Battle Royal (WrestleMania 34)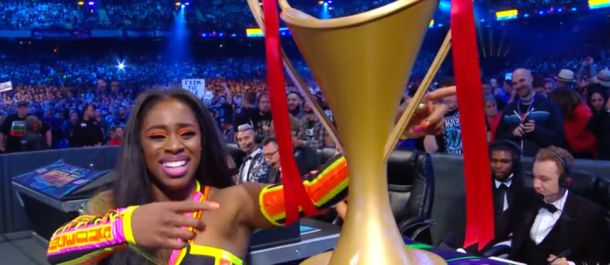 These battle royales are hard to pick because there really is no rhyme or reason to it. The story heading into this one was all about Sasha Banks and Bayley and their strained relationship as it appeared that one would turn on the other. They were the favorites and the question was simply which one would turn on the other and win the match.
Well, Bayley turned on Sasha, but in doing so she forget about Naomi who had done some of her elimination saving magic.
#2: Carmella (+1500) won the Women's Battle Royal (WrestleMania 35)

The WrestleMania battle royales are always an outstanding place for upset wins, but looking back on it now it's hard to see how we missed Carmella. This was a New York/New Jersey WrestleMania and there were a couple of hometown wins. We actually tipped Tony Nese because he was local, but didn't make the same assumption about the women's battle royale.
Carmella got the win here and was able to hug her father, a former WWF wrestler from the 80s and 90s, after the match.
#1: Zack Ryder (+3300) defeated Dolph Ziggler, Kevin Owens, The Miz, Sami Zayn, Sin Cara and Stardust (WrestleMania 32)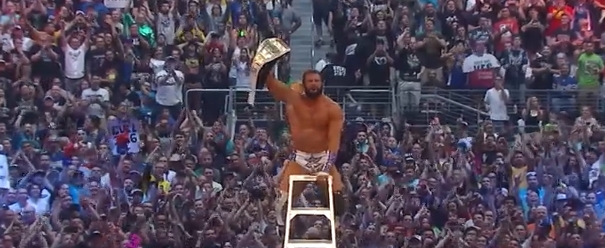 The biggest upset in WWE WrestleMania history belongs to Zack Ryder. You know it, bro.
The story heading into this match was all about Kevin Owens as he had a feud going with nearly everyone in the match. The main crux of the feud was Owen, Ziggler, Miz, and Zayn with Ryder, Sin Cara, and Stardust added as after thoughts. The stories everyone saw coming out of this were Ziggler against The Miz and Owens against Zayn. Ryder wasn't even planned for the match originally as he was late substitute for Neville (PAC) who suffered an injury weeks before Mania.
The win of Ryder was something that absolutely nobody saw coming. He wasn't featured much in the story heading into the show and hadn't been considered a wrestler that wins matches in quite some time. Ryder's win would lead nowhere ultimately as he lost to The Miz the very next night, but for one night he was a legend.
Looking back, maybe we should've seen this one coming. WWE will often give a replacement the win in a match they weren't originally scheduled for as a way to surprise the audience, but because that replacement came early enough in the process where he didn't "feel" like a replacement – we didn't really think of him that way.
Follow @WWEBettingTips
Current Wrestling Betting Odds:
Event:
Match:
Where To Bet:
AEW Prop
Roster Size Over/Under
N/A
AEW Revolution
Mox -162 vs Danielson +115
N/A
AEW Revolution
Punk -250 vs MJF +175
N/A
AEW Revolution
Starks -250 vs Dante +175
N/A
AEW Revolution
Wardlow +134, Keith Lee +275
N/A
AEW Revolution
Jade -500 Leyla +300
N/A
AEW Revolution
Jurassic Retain Yes or No
N/A
AEW Revolution
Rosa -278 D.M.D. +190
N/A
AEW Revolution
Hangman -345 Cole +225
N/A
AEW Prop
Next World Champ
N/A
WWE Money in the Bank
Mens & Womens Odds Up
N/A
WWE Wrestlemania
Bianca -230 vs Becky +160
N/A
WWE Wrestlemania
Brock -134 vs Roman -106
N/A
WWE Wrestlemania
Ronda -500 vs Charlotte +300
N/A
WWE Wrestlemania
Various Props
N/A
Roman Reigns Prop
Champ After Him
N/A
Note: Not all bets may be available at BetOnline but they are only choice for Americans.